SPECIAL Pre-Release .99 SALE!!!
Hi everyone! And to my American readers, HAPPY 4th of July Weekend! In honor of both the American Holiday, and
my RELEASE PARTY for Collide
next week, I really wanted to find a way to
THANK YOU, my readers, for your loyalty
. So, I decided to do something unprecedented, and maybe even a tad crazy....
I have put together an AMAZING 99cent sale to share with all of you -
My ENTIRE BACKLIST of fiction
, including the Requiem Series and the acclaimed YA dark thriller, Transcend, are
ON SALE for 99cents (for the ebook only) each
. Seriously!
BUT, as with anything this HUGE, it is only
on sale for a limited time
. So, be sure to get your copies of my previously released novels today,
for only 99cents each!
Here's the scoop on them all -
Some sacrifices should never be made, even for love.
Nesy is the best of an elite group of angels, warriors called Sentinals, charged with one job—vanquish the UnHoly. She's never made a mistake, never gotten emotionally involved, never failed.
Until she comes face-to-face with Aydan.
He is evil incarnate. A fallen angel that feeds off the souls of others. Everything Nesy is supposed to hate. But she can't, because he's also the human love of her life; a love she was never supposed to feel.
Now she must choose between doing her duty or saving Aydan, a choice that will cost more than her life...
Or his soul.
The line between good and evil has never been so blurred.
Aydan wants to believe Nesy has returned to him in Vanessa. But her lack of memories and incessant nightmares begin to erode his faith. Zane is used to trusting his mind, his wisdom and his angelic senses. But these attributes are no help with Vanessa. He has no way to be certain of her true identity. That is, unless he listens to the one thing he has refused to acknowledge throughout his existence - his feelings for Nesy.
Blind to both angel and demon, Aydan and Zane mu
st now figure out the truth behind Nesy's identity before all is lost, Azza discovers the truth and the Beast is again unleashed.
DOMINUS, Requiem #3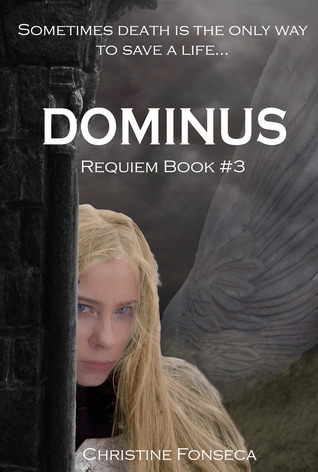 Sometimes death is the only way to save a life.
Nesy knows who she is now, knows what she's lost. Determined to save Aydan from his fate, she confronts the only one she blames for everything - Azza. But how can she fight the devil when she is nothing more than human.
The fate of Celestium, Infernum and humanity rests in Nesy's hands. Can she find the strength to confront demons she's never imagined, face fears she's never voiced, and release the one things that has held her world together - her love for Aydan. Some sacrifices should never be made...even for love.
REQUIEM SERIES Vol 1-3
How far would you go to save the one you love?
INCLUDES THREE FULL LENGTH NOVELS AND THREE SHORT STORIES:
Dies Irae (#.05)
LACRIMOSA, (Book #1)
Mea Culpa (#1.5)
LIBERA ME (Book #2)
Enigma (#2.5)
DOMINUS (Book #3)
TRANSCEND
Semi-Finalist in Kindle Book Review 2013 Indie Book Awards
All seventeen-year-old composer Ien Montgomery desires is an escape from his family's rigid expectations for his life; someone to inspire his music. When he meets a beautiful violin-prodigy, Kiera McDougal, his life music takes on new life. With her, he imagines a future outside of his parents' control. That is, until a horrible accident tears them apart.
Sent to die in a sanatorium, Ien's obsession for Kiera grows unbearable. Tortured by thoughts he can't escape and the truth of his monstrous disfigurement, he flees, desperate to exact revenge on the people that ruined his life – his parents. But, vengeance is empty. Betrayed by those closest to him, Ien discovers that the price for his happiness may be his sanity.
Set amidst the landscape of New York's Gilded Age, and inspired by Phantom of the Opera, TRANSCEND exposes the fine line between love and madness.
To recap,
m
y ENTIRE BACKLIST of fiction
are
ON SALE for 99cents (for the ebook only) each
.
GET YOURS TODAY
And, be on the look out for the COLLIDE party-extravaganza happening July 7-14!!!